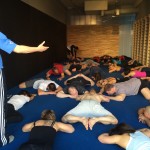 This past weekend, I was fortunate enough to be invited by Coach Christopher Sommer, creator of Gymnastic Bodies, to a master class at Awaken Gymnastics in Denver. I first met Coach Sommer in December of 2013 at a seminar and was instantly hooked on gymnastic strength training. The two-day master class was designed to coach some of his best and brightest adult gymnastic students (most of us are still waaaay behind his six-year old trainees). Coach Sommer's credentials speak volumes about his expertise in the field. In short, he is a proven world-class gymnastics coach and motivator.
We came from all over the world to train with Coach- Australia, Singapore, Canada,
England, Sweden, and Norway. The quality of athletes was amazing, but more importantly, the quality of human beings I met were beyond my expectations. These were all extremely motivated individuals with tremendous knowledge in their respective fields. They came with a voracious appetite for even more. This hunger wasn't just for their own growth- they came to learn and spread newfound knowledge. In this regard, our passion is what tied us all together. What I learned from each individual was more than worth the price of admission.